MORE PEOPLE.............
Matt was another of our economy size drivers: I loved them, couldn't reach the pedal to burn too much fuel....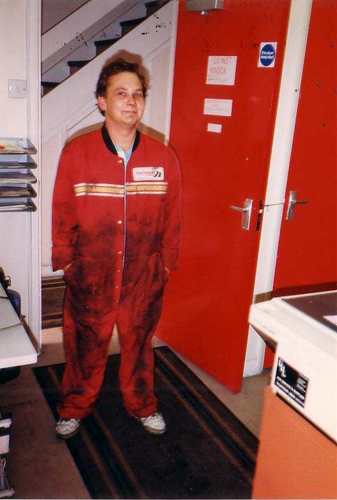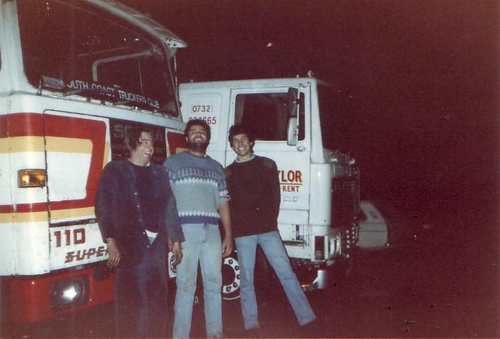 John Haywood and Mick Pattenden again, this time with Steve Williams. Steve's family owned the local scrapyard, but he wanted to get experience of haulage out in the wider world: he got it with us! Steve broke down in the old Scania near Leicester, deisel pouring out of the pump. He limped it into the nearest Scania Agent, who quoted a new pump and several hundred's of pounds. I shot up there with a bootful of old pumps, and we changed the faulty pump element at the side of the road, in the rain, at night: a job that is supposed to be done in clean room conditions: it worked, and was still ticking happily away when we sold it in 1997.
Steve also got lumbered collecting a Portakabin from Langley, and I had forgotten to read the order properly, and hadn't noticed it was a 48' x12', no wide load permit. We prayed, and Steve took a flyer round the M25, and we got away with it.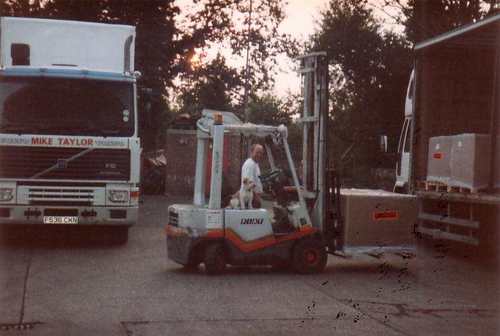 Rog Layberry, with Gabby driving forklift,had been working for Carpet Express. Rog had been a friend of mine in the Army, and first introduced me to Borough Green in the early sixties. Rog was always happy with the four wheeler, even if it often meant he got lumbered with all the multidrops. He is now happily ensconced as caretaker at the local primary school.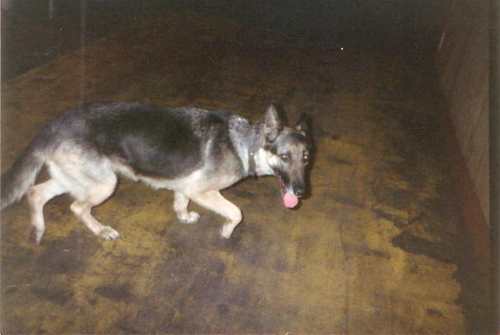 No story of Platt would be complete without mention of Suzie (Blackfoot Souix). She adopted us, arrived one day, skin and bone, and scrounged all our sandwiches. When we left, we didn't want to lock her up, in case someone was looking, so we tied her to a trailer with a long rope, and made a kennel out of a couple of sheets of ply and a bit of sheet. Not good enough for Sue: we arrived in the morning to find she had chewed through the door in the night, and was in the office, curled up on the desk over the heater: she was staying, who were we to argue. She eventually went blind, and died in 1996, now buried in the garden.
She only ever bit me!!!!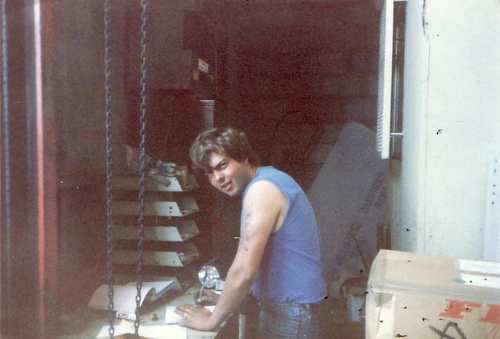 Trevor..... well what can I say about Trevor? He worked nextdoor for Kentinental, hated it with a passion, and would come round in his breaks and look longingly at us scruffs. Eventually I relented, and we gave him a job in the warehouse, eventually putting him through an HGV. Lovely bloke, but we eventually wore him out.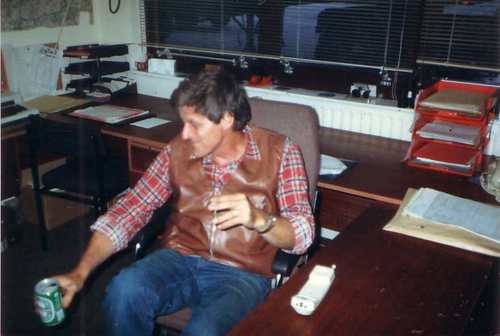 Ian Spellar was GB Haulage's warehouse man, and stayed with me when we took over. He was eventually poached by CRS Haulage, which caused me some trauma at the time. But I need not have worried, Ian stayed loyal, and kept our secrets to himself.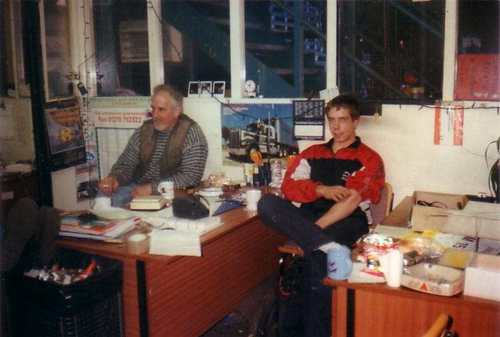 This is Dave Kyle and Dean Noakes having a break at the Paddock Wood warehouse. Dean was the son of an old friend, Keith Noakes, well known in local haulage, and someone who had helped me out of trouble. We gave Dean a job, and I was very impressed: although he was only 15/16 here, he ran a gang of his own, and did it well. I hear his life is a bit rougher these days, but I hope he remembers what he is capable of.
Free
Feel free to download and use images.