Boys Toys
I have always had a deep and abiding love for machines with engines that make them move. Part of the joy of my life has been that I have been able to indulge this passion.
Owning my own haulage and storage company meant that I could actually OWN some of these fascinating machines. Sadly, I spent so much time driving them, that I didn't get many chances to take pictures, a fact that I regret now that I am in my dotage.
This forklift below, driven here by Dennis, and watched by Kevin, was my first ever fork truck. I bought it off ARC Construction, and it at last gave us the ability to tranship, and lift heavy objects without having to beg or borrow. It was four wheel drive, with a frighteningly high triple lift mast, and with an 8' x 3' steel plate on the front made an excellent snowplough. During the Big Snow in 87/88, we had spotless roads on the estate. You couldn't get out onto the A25, or any other road in Kent, but our Estate was clear.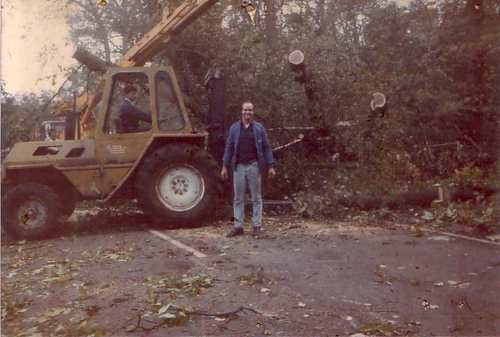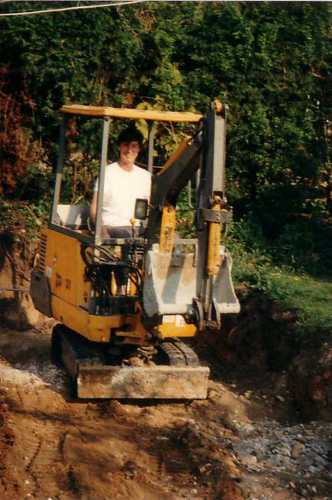 they don't have to be big, either, although that does appeal to the macho in me. Even this tiny digger I hired to do the footings for my extension gave me hours of fun.
But I can manage bigger ones.......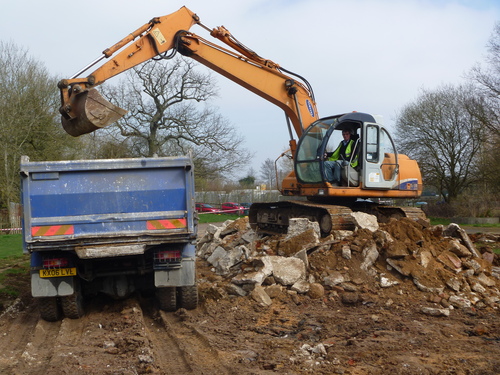 Clearing concrete at Potters Mede with Steve.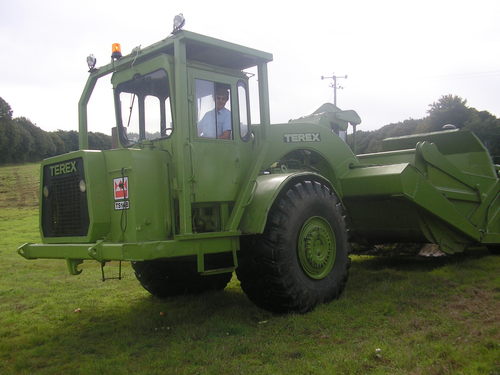 Up until 2005, I had managed to drive virtually everything on God's Earth except motor scrapers. I had spent hours watching them on pipeline and motorway contracts, but never managed to get behind the wheel. And I can remember the first time I saw them in action on the M20 between Wrotham and Maidstome, a picture burned into my memory.
This was before cabs became mandatory, these bronzed giants with bulging muscles, cigars clenched between their teeth, eyes squinting in the sun and the dust ---- the romance of it all, my envy burned inside me, And I nurtured that envy for years.
Then one day, my Jackie told me that a friend needed a lift with some furniture, got me into the car, and off we went. By the time we had got a mile or so up Seven Mile Lane, I had started to smell a rat, but still no clue. Then we turned into Colin Bridge's house, and parked round the back were TWO motorscrapers, and Jackie had arranged with Colin that I spend an hour hacking around in the Terex for my 60th Birthday present. There is only one thing better than a machine with an engine, and that is a machine with TWO engines.
That girl knows how to please a man.
Click on the pic to see Colin's son in the Cat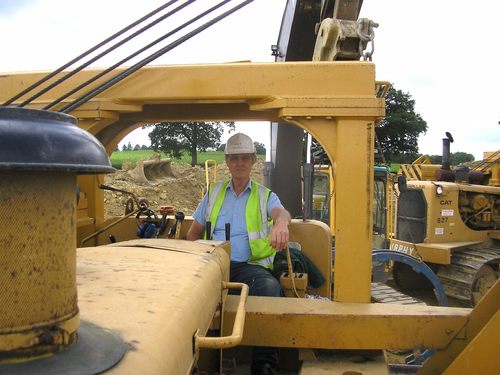 Me in a sideboom on the Farningham-Hadlow pipeline, but don't tell anyone !!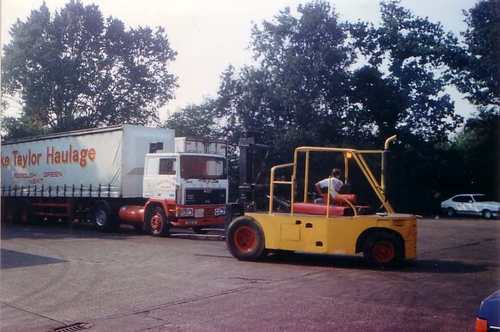 After the crane died, we used a ramp for a while to make tristacks, but that was a bit iffy, and really required spot on artic reversing. So we did some trading, and ended up with this beast. We put all the roll cages and superstructure on, when it arrived with us it was just a huge block of metal on wheels with forks on the front. The superstructure made it look a bit more like a civilised forklift, fit for humans.
But what a beast: 9tonne lift, and it could confortably drive around witha 40' trailer 15 feet in the air.
I still don't know what make it was, save that it had the same Ford 6 cylinder engine they use for 16 tonners, and that is a truck axle at the front with pairs of 1200 x 20 tyres.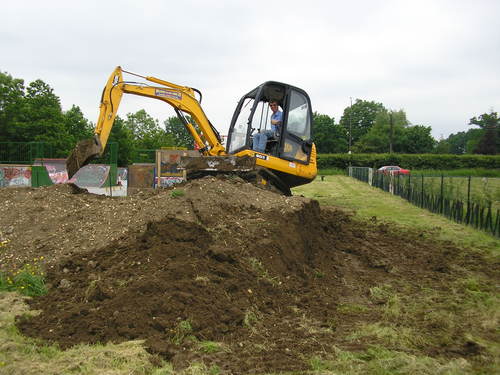 Another baby here, sculpting the dirt for a BMX track on our local DIY skatepark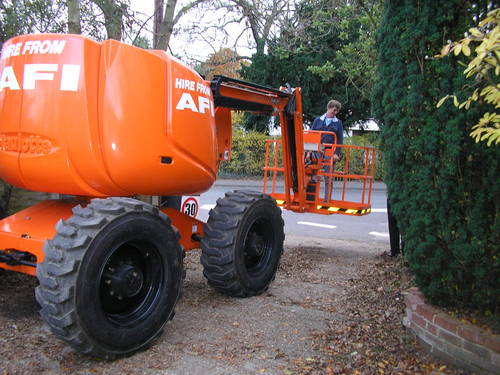 And being now involved in Borough Green's Christmas Lights, each year we have a cherrypicker. I am scared of heights, so I had to force myself to get used to them or I wouldn't have been able to have a go on this beauty.
Feel free to download and use images.